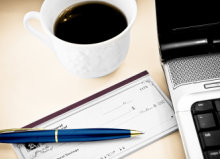 Additional Services
At State Bank of Whittington, being there for our customers' needs isn't something we take lightly. We go to great lengths to provide the customized, in-person attention you deserve, backed by modern conveniences that keep banking easy.
If there's something in particular you're looking for, it might be found here. As always, even if you've found your answer online or could just use some clarification, feel free to reach out to us at any time. A helpful customer service representative will be in contact with you shortly.
Direct Deposit
No more trips to the bank to deposit your paychecks. Direct deposit allows your employer or other third party to deposit checks directly to your bank account. After the simple one-time setup, each check thereafter is automatically deposited to your designated account. Access funds quicker and easier with this time-saving service.
Wire Transfers
Move money across town, state, even country with the help of your hometown bank. We offer same-day, outgoing and incoming wire transfers.
Wire Transfer Pricing
Outgoing - $35
Incoming - $25
Foreign - $85
Safe Deposit Boxes
Safeguard your most precious possessions with the help of a neighborhood bank you know and can trust. We offer a variety different box sizes at budget-friendly prices.
Safe Deposit Rental Specifications Per Year
3 x 5 - $30
3 x 10 - $40
5 x 10 - $60
10 x 10 - $90
Lost key replacement - $25
Lock box late fee - $10 per month (after 30 days late)
Teller Services
Cashiers checks
Fax service
Money Orders
Reorder Checks
Reordering checks is quick, easy, and can be managed completely online. Order checks today in a matter of minutes.
Notary Services
State Bank of Whittington offers free notary services to our valued customers. Stop by a branch to have your documents notarized today.