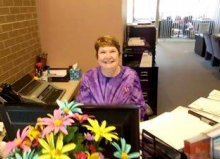 News Center
Stay informed about all things State Bank of Whittington! Learn about the latest news and events that State Bank of Whittington is working on to maintain a well-balanced banking relationship for you.
Careers at State Bank of Whittington
State Bank of Whittington is an Equal Opportunity Employer and complies with all State and Federal non-discrimination laws. Please feel free to print out the application or stop by one of our convenient locations and request an application or drop off your resume. Thank you for your interest in the State Bank of Whittington.
New ATM Location
Our newest ATM is now OPEN! Swing by and use our latest ATM location on East Washington Street in Benton, IL.
Notice of Coverage Changes
NOTICE OF EXPIRATION OF THE TEMPORARY FULL FDIC INSURANCE COVERAGE FOR NONINTEREST-BEARING TRANSACTION ACCOUNTS
By operation of federal law, beginning January 1, 2013, funds deposited in a noninterest-bearing transaction account (including an Interest on Lawyer Trust Account) no longer will receive unlimited deposit insurance coverage by the Federal Deposit Insurance Corporation (FDIC). Beginning January 1, 2013, all of a depositor's accounts at an insured depository institution, including all noninterest-bearing transaction accounts, will be insured by the FDIC up to the standard maximum deposit insurance amount ($250,000), for each deposit insurance ownership category.
Bauer Five-Star Rating
State Bank of Whittington is proud to be a five-star accredited banking institution through Bauer Financial. Ranking is based on many factors, including: level of strength and performance. Learn more about the Bauer Financial ranking system and why we're so proud to be on the forefront of nationwide financial institutions!